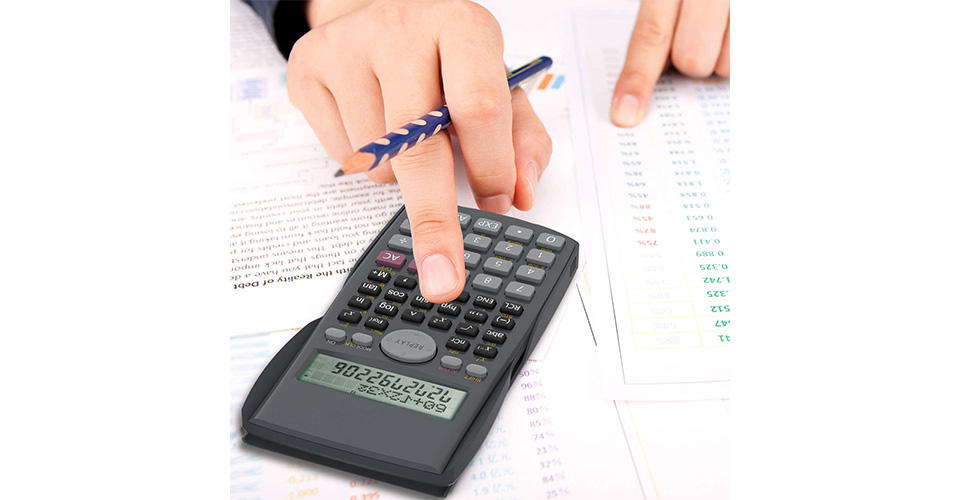 The best calculator for engineering is one that is highly functional and approved by NCEES (National Council of Examiners and Surveying). It allows you to fly through calculations since it has very many functions.
Despite the numerous functions, this calculator is not difficult to use. You will, therefore, not take longer learning how it works. Moreover, the best engineering calculator normally comes with a comprehensive user manual to tell you more about it.
This calculator is not just designed for engineers but also works great for both students in junior high school and college. Below, we have come up with a list to help you choose which brand is suitable for your needs.
1. Texas Instruments Engineering/Scientific Calculator (TI-36X Pro)
This is a flexible calculator that can be used by students at any entry-level. This means whether you are in junior high school or college, the TI-36X Pro will work just fine for you. It is a small and inexpensive unit that packs a lot of punch.
As such, it is unsurprising that it has made it to this article. It is equipped with a MultiView display, which shows a lot of calculations on the screen at the same time. The calculator also features MathPrint that shows math expressions, stacked fractions, and symbols.
It is great for Biology, Calculus, Statistics, Trigonometry, Geometry, and Algebra 1 & 2, among others. With it, you will be able to convert decimals, fractions, and terms, such as PI, into alternate representations. Its dimensions are 6.1 by 3.2 by 0.8 inches. It is a standard-sized calculator that will not be difficult to put away when not in use.
Pros
Great for engineering students
It is allowed in FP/PE engineering exams
The calculator has lots of functions
The decimal to fraction function is great
Cons
The arithmetic button is not conveniently located; hence, may taking time getting used to
2. Casio PLUS Engineering/Scientific Calculator (fx-115ES)
The selling point of this engineering/scientific calculator is the Natural Textbook Display. This is a well-thought-out display that shows results and expressions exactly how they appear in the textbook. Another great feature of the fx-115ES is the Multi-replay function that makes it possible to edit expressions and recalculate your answers.
The function does that by allowing you to backtrack step-by-step through calculations. What's more, this calculator for engineering has more than 280 functions. These include statistics, base arithmetic, computer science, standard deviation, complex number calculations, and polar-rectangular conversions.
Apart from engineering, this calculator is great for the following courses: Physics, Chemistry, Trigonometry, Pre-Algebra, Pre-Calculus, Statistics, Algebra I & II, and All General Mathematics Courses. It is highly versatile because of the innumerable functions it is loaded with. It is the most advanced scientific calculator Casio has ever made. What's even better, its price is affordable.
Pros
Converts to decimal degrees
The calculator is easy to use
The price is insanely low for what the calculator does
Allows you to work fast without any errors
Cons
Not the sturdiest; therefore, should be handled with care
3. Casio Engineering/Scientific Calculator, Black (FX-991EX)
One of the reasons why you want a top-quality calculator is that you want to calculate and solve various problems in no time. Well, we say you should try out the Casio FEX-991EX. It has a high-resolution display that increases the amount of information displayed as well as ensuring super-fast calculations.
This makes the calculator one of the best when it comes to solving advanced mathematics. The high-resolution LCD display will provide you with more information for applications such as Spreadsheets and 4×4 matrix calculations. Furthermore, this calculator features a comprehensive set of advanced calculations for integration and differential calculus.
The suggested courses for this calculator are engineering, General Math, Physics, Pre-Algebra, Chemistry, Algebra I & II, College Algebra, Trigonometry, and Calculus. It is a multipurpose calculator that will prove a vital tool in solving problems in real-time.
Pros
Extremely fast and has a beautiful screen
The build quality is okay
The displayed information is easier to see
Constant and conversions are much easier to use
Cons
The calculation history and spreadsheet data are lost when you power off or change mode
4. Helect 2-Line Black Engineering Scientific Calculator
If professional engineering and scientific calculators were to be ranked based on affordability, this unit would no doubt be number one. It is extremely affordable, and this makes it a great purchase for anyone on a budget. What's more, this scientific calculator is designed with versatility in mind.
It is suitable for both school and business. Additionally, this calculator comes with instructions that provide proper guidelines on how you should use it. It also comes with a customer service card to assure you that should you have any issues with your newest purchase, do not hesitate to let the manufacturer know about it.
The design of this calculator is ergonomic in the sense that it offers a comfortable grip. The ergonomic design is further extended to buttons. They are responsive and make the calculator much easier to use than most brands in the same class.
Pros
Great for basic sciences
Can be bought as a backup
The calculator is simple to use
The price is hard to beat
Comes with a nice case
Cons
Sometimes it is difficult to see what's on the screen
5. Sharp Engineering/Scientific Calculator (EL501XBWH)
Some manufacturers have poorly designed covers that come with their calculators. However, Sharp Co. is obviously not one of these manufacturers. Its calculators, including the EL501XBWH, come with a hard cover to protect against scratches so students can use them from the start of their school career to the end of the same.
The EL501XBWH is built to last and to serve students for years to come. But durability is not the only thing that makes it one of the best engineering calculators. Equipped with a large display featuring 10 digits on the same line, viewing completed calculations on this calculator is extremely easy.
Furthermore, this calculator has essential scientific functions that allow you to handle a lot of calculations. Whether it is logarithms, trig functions, powers, reciprocals, or roots, this unit can do it. Additionally, the calculator is aesthetically pleasing; thanks to the gloss finish with white or green accents.
Pros
Simple and easy to use
Features are well thought out
Does all the basic calculations really well
The display is clear and easy to see
Cons
The manual could be more comprehensive
6. Sharp Engineering/Scientific Calculator (EL-531XBGR)
Sharp Electronics was founded to help you create a balance between personal time and work. Its products enhance life at home, at work, and everywhere in between. It uses advanced technology to improve life. All that being said, expect the EL-531XBGR to be a shrewd investment.
Despite its fairly low price point, the calculator is highly functional and of wonderful quality. It performs more than 270 advanced scientific and mathematical functions. One of its exceptional features is the Direct Algebraic Logic function, which allows you to enter numbers and symbols in the exact way they appear in textbooks.
Another feature is the 2-line display that is large, and, therefore, very easy to read. Plus there is Multi-Line Playback that makes tricky scientific equations much easier to solve. This scientific engineering calculator is perfect for students studying algebra, general math, trigonometry, and geometry.
Pros
The appearance of the calculator is spot on
Fairly simple to use
Great for those who do a lot of calculations
The calculator has a lot of good functions
The seller is great to deal with
Cons
The buttons are a bit loose
7. CATIGA CS121 Black Scientific Graphic Calculator
CATIGA provides a 365-day limited warranty to protect this scientific graphic calculator from defects and other original unfortunates. This is really good, considering that not all calculators come with a warranty. The manufacturer also promises to always be there for you as well as to respond to your issues within 24 hours.
The calculator is ideal both for advanced and beginner courses such as Algebra I & II, Pre-Algebra, Trigonometry, Finance & Business, Geometry, Physics, AP Calculus, Biology, Calculus, and AP Statistics. It has a programmable system for all level courses. The system helps improve efficient learning by making sure students learn concepts instead of memorizing stuff.
Additionally, this calculator has more than 280 functions, including variable solving, fractions, standard deviation permutations, linear regression, complex number calculations, and statistics. The screen of this calculator is large enough to display equations and graphs at the same time for easy calculations and corrections.
Pros
The built-in function that shows you how to graph is great
The price is cheap
The display is simple
Perfect for doing simple calculations
The manual is highly detailed and very clear
Cons
Packaging could be better
8. Howentchi 2 Lines Engineering Standard Scientific Calculator
The 2-line display of this calculator for engineering shows entry and results simultaneously. This means you can check entry details. That being said, we can confidently say that this engineering standard scientific calculator is designed to make your work easier. It is a professional-grade unit that teachers, students, and engineers should seriously consider buying.
It quickly and effortlessly handles scientific and engineering notation modes, I and II variable statistical calculations, and 3 angle modes, which are grads, degrees, and radians. That being said, we can confidently tell you that this calculator is versatile and will make your work at home, in the classroom, or at work a breeze.
It comes with a slide-off protective case that protects it against scratches and other potential damages. An 18-month warranty is issued upon buying this calculator. It gives you peace of mind during purchase.
Pros
The calculator works as advertised
The price is great for what the calculator does
Allows you to assign values to variables A, B, C, D, E, and F
The 2-line display is outstanding
Cons
The cover does not slide back on smoothly
9. Sharp 12-Digit Scientific/Engineering Calculator (EL-531TGBBW)
We recommend this scientific and engineering calculator for you because of its large display. The large 12-digit 2-line display makes viewing what's on the screen a non-brainer. Ideally, it is so large that it shows Calculation entry and results simultaneously. The calculator is suitable for students studying general math and science, chemistry, pre-algebra, biology, trigonometry, algebra, and statistics.
It has the D.A.L (Direct Algebraic Logic) function that allows calculations to be displayed exactly how they appear on the textbook or paper. It also has two modes, which are normal and start. Plus it is equipped with a Home key function that allows you to start afresh by clearing previously entered settings and data.
The durable gloss black finish featuring white accents greatly improve the aesthetics of this calculator. It is a nice engineering/scientific calculator that does not just do what it is intended to do but also has a stunning look.
Pros
The price is reasonable
Extremely easy to use
The calculator has minutes, seconds, and degrees
The sleek design makes it receive a lot of compliments
Cons
Would be better if the calculator was backlit
10. RENUS 2-Line Engineering Scientific Calculator (8 Packs)
You get up to 8 engineering and scientific calculators when you buy this package. As if that's not there are 16 batteries included in the package that comes with these calculators. For the price, this is a great deal that should not go unnoticed, especially if you are looking to buy calculators for a large group of students.
It is important to note that the calculators are identical. They have lots of great features that make them perfect for teachers and students. Because of these features, you can perform sexagesimal calculations using minutes, seconds, and degrees. You can also convert between sexagesimal and decimal values.
Besides, these calculators have the View Display feature that will let you view symbols, scores, and decimals exactly the way they are in textbooks. There is also an auto shut-down feature that automatically shuts down the calculators should they stay inactive for more than 5 minutes.
Pros
Calculators are very easy to use
They are reasonably priced
They seem to be well constructed
They do not just show the answer – also show the operations and syntax of the entry
Cons
They do not have as many functions as expensive units. But they work well for what they are designed for.
Buyer's Guide for the Best Calculator for Engineering
The following factors will sharpen your skills in identifying and buying a great calculator for engineering.
Functions
You have noticed in the calculators above that different models have different functions. For instance, others are capable of displaying entry exactly the way they are on textbooks, whereas some cannot. As such, it is advisable that you go for a calculator with as many functions as possible.
Approval
Buying a calculator that is barred by various examination institutions is a total waste of money. Therefore, before you spend your hard-earned money on a calculator, make sure it is approved by all examination institutions, including PSAT/NMSQT, ACT college entrance exams, SAT, and AP tests, among others.
Display
The display of your calculator should be large enough to display as many digits as possible. Also, if possible, you should choose a calculator with display that shows multiple calculations at the same time. Plus the display should have backlit for easy viewing of entry and final answer.
Ease of Use
An engineering calculator is equipped with numerous functions, and, therefore, it can be quite difficult to use. With this in mind, go for a unit that comes with a detailed manual. Also, make sure you buy from a manufacturer that is always ready to assist whenever you have a problem.
Conclusion
An engineering calculator is not just designed for engineers but also makes a great purchase for students. It is packed with numerous features that make it a handy tool for solving mathematics problems in no time. Since they are many on the market, picking the right one can be a bit tricky. But we say, worry not because this article is here to help you.