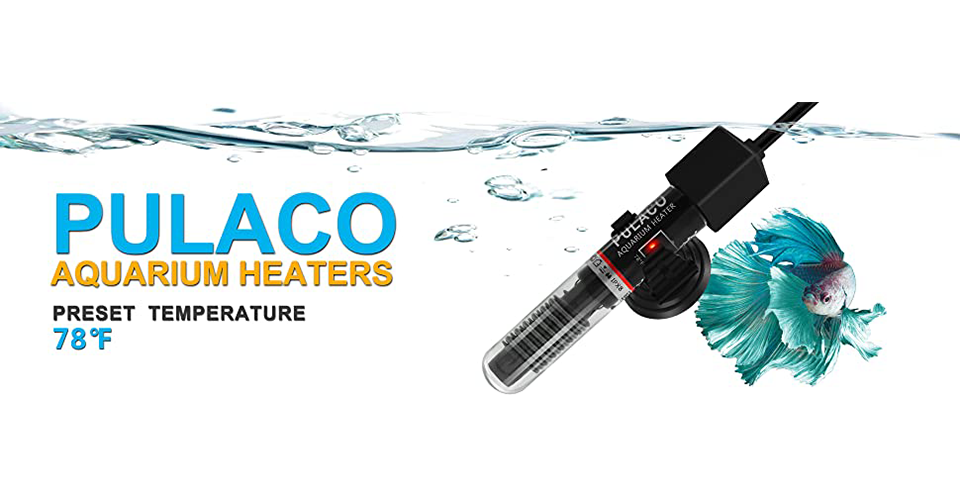 The best small aquarium heater keeps the temperature of the water at optimal levels. This is very important since, unlike us, fish rely on their environment for warmth. While hot water is obviously not recommended, cold water is not good either.
Fish can easily have all sorts of problems simply for being in cold water for too long. They can easily get sick and suffer from all kinds of complications.
So, if you do not want to see your fish gloomy, it is time to go for an aquarium heater. In the reviews below, we talk about the best models in the market.
1. FREESEA 50W Mini Submersible Aquarium Heater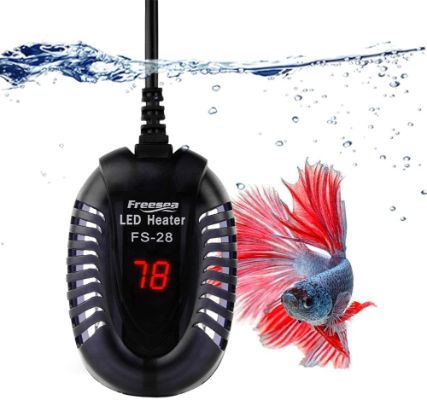 Buy now from Amazon
The selling point of the FREESEA 50-Watt Submersible Heater is the LED display. It is large and clearly displays the temperature of the water. It also works accurately and eliminates the need to buy another thermometer. The temperature range of this mini heater is from 59 deg F to 94 deg F. The heater is engineered to work in tanks whose capacity ranges from 1 – 10 gallons.
What's more, the FREESEA Small Heater is equipped with an automatic feature that makes it convenient to use. The heater stops automatically when the water temperature reaches the set temperature and starts to work automatically when the water temperature drops below the set temperature.
This mini heater also has a touch button that makes using it safe and easy. You should note that during use, the heater should be 100-percent submerged into the water. It is a well-built heater that should stand the test of time. The manufacturer believes in it and provides a 12-month warranty.
2. Orlushy 50W Mini Aquarium Heater with LED Digital Temperature
Buy now from Amazon
The LED display design of this small heater for aquariums combines with an external temperature controller to make the heater safe and easy to use. A heater is a 2-in-1 unit in the sense that it also features a thermometer. This makes it perfect for small aquariums that should not be stuffed with lots of equipment.
The heater uses 50 watts of power, and it is suitable for 3 – 10 gallons. There is also another version, which is rated 100W. We bet it is suitable for large fish tanks. Besides, the Orlushy 50W Submersible Heater can be used in all kinds of environments, including freshwater, aquaculture, glass containers, marine aquariums, and hydroponic systems.
The heater should be completely submerged into the water before it is turned on. Also, it should be set up in such a way that the LED display can easily and clearly be seen. The power cord this heater comes with is 5 feet long.
3. PULACO 25W Small Aquarium Betta Heater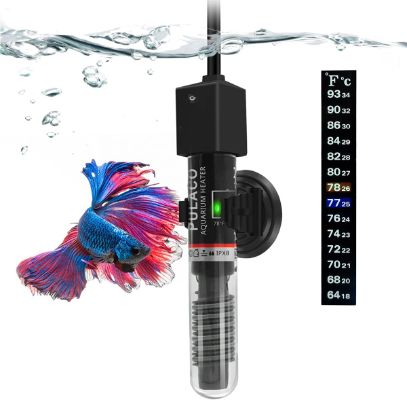 Buy now from Amazon
If your fish tank's capacity is ranging from 1 – 6 gallons, the PULACO 25W Mini Aquarium Heater is what you should invest in. It does not consume a lot of power plus it is on the cheap side. It is also versatile despite its modest design.
It is perfect both for small glass and acrylic aquariums. You should note that this heater is not suitable for a tank with a capacity of less than 1 gallon. Installing the heater is quick and easy as it can be set up either horizontally or vertically. In addition to that, the heater is automatic, and, therefore, does not require a lot of supervision.
Once plugged in, the light will turn red and the heater will begin warming the water up to 78 degrees Fahrenheit. Once the temperature hits 78 deg F, the light will turn green and the heater will stop working. In case the temperature drops below 78 deg F, the heater will start working again.
4. Hydor 25W Submersible Glass Aquarium Heater
Buy now from Amazon
Most heaters are likely to be damaged if they are turned on and let to work in a tank with no water. However, that cannot be said about the Hydor 25W Glass Aquarium Heater. Equipped with exclusive technology, this aquarium heater will not break when it is on but there is no water in the tank.
As if that's not enough, this heater is made with top-notch components to further ensure that it lasts longer. The heater is also designed to be shatterproof as well as shock-resistant. Needless to say, if you are tired of aquarium heaters that barely last a year, the Hydor 25W Glass Aquarium Heater is for you.
It has a graduated scale that ensures accurate maintenance of the set temperature. Furthermore, this heater can be positioned either vertically or horizontally plus you must make sure it is completely submerged. It is not only available in 25W but also comes in 50W, 100W, 150W, and 200W.
5. Cobalt Aquatics Flat Neo-Therm Heater with Adjustable Thermostat
Buy now from Amazon
What the majority love about the Cobalt Aquatics Neo-Therm Heater is the incredibly flat design. The design allows the heater to fully submerge into the water. By so doing, the design helps make this heater very easy to install. The design is also modern and helps save energy without compromising the overall performance of the heater.
Another impressive feature of this heater is the reversible holster/bracket that allows the unit to be installed facing outward or inward. Additionally, the Cobalt Aquatics Neo-Therm Heater features an accurate, one-touch system that makes it possible to set the temperature between 66 and 96 degrees Fahrenheit with just a single touch.
After you have set the temperature, the neo-therm thermostat will maintain it within an accuracy of +/-0.5 degrees Fahrenheit. The LED display shows both the actual temp and the set temp at the same time. Moreover, the heater is equipped with integrated thermal protection circuitry that prevents it from overheating.
6. Aqueon 100W Preset Heater 100106252
Buy now from Amazon
Aqueon 100W Heater is designed for 20 gal to 30 gal aquariums. If your aquarium is pretty large, there is another version, which is 200 watts. The heater is black and, therefore, will blend in nicely into the tank's finish and décor. What's more, it boasts shatter-resistant construction that enables it to stand the test of time.
The manufacturer recommends that you have it fully submerged in the water to further improve its lifespan. Besides, Aqueon 100106252 comes preset to 78 degrees, which is appropriate for most tropical fish. Plus it has an automatic safety shut-off feature that prevents overheating, thereby, helping to extend its lifespan.
The LED indicator shows when the unit is actively heating. The heater is reasonably priced and the manufacturer provides a 1-year warranty to show how much it believes in its construction and general performance. Like other top-notch models, Aqueon 100106252 can be positioned either at a vertical or horizontal angle in the tank. It is very easy to install and use since it requires no adjusting.
7. hygger 50W Submersible Mini Aquarium Heater
Buy now from Amazon
hygger 50W Small Submersible Heater is designed in such a way that it shuts off when the top part is out of the water. The LED then shows E1. Well, this is to help extend the lifespan of the heater. If the heater is fully submerged into the water, it will return to normal and work again.
Despite this feature, the heater is still within an affordable range. It has an oval design that gives it a compact look, thereby, making it perfect for small fish tanks. It is compatible with 110 – 120V/60Hz and uses 50 watts of energy. That being said, this heating system heats fast, and it is suitable for fish tanks whose capacity ranges from 1 – 6 gallons.
There is also another size, which is 100W. Well, the 100-watt tank heater is ideal for 6.5 – 13 gallons. The dimensions of the 50W tank heater are 2.7 by 1.4 by 4.5 inches. Additionally, the 50W tank heater comes with a 5ft power cord, which is long enough to allow for outdoor use.
8. hygger 50W Inline Mini Aquarium Heater, Quartz Glass
Buy now from Amazon
The power cord of the hygger 50W Inline Heater is 4.6 feet. While it is not the longest power cord, it does not limit the hygger Glass Aquarium Heater in any way. The voltage the heater needs to function is from 110 – 120V/60Hz. Furthermore, the heater has a decent rod length of 5 inches.
It is a powerful and compact small mini heater that works beautifully in a small fish tank. It is suitable for betta tanks and, because of its compact size, you will not have any problems hiding it in the tank. The heater stops and restarts automatically so you can focus on other things.
It effectively maintains the water temperature by stopping to heat the water when the temperature reaches the set water temp and restarting to heat when the water temp is 1 deg F to 2 deg F below the set temp. With this heater, you will be able to set the temperature from 68 deg F to 90 deg F.
9. hygger 35W Aquarium Mini Betta Fish Heater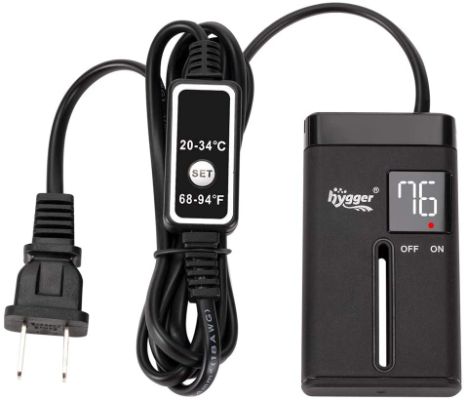 Buy now from Amazon
If installing things is not your favorite pastime activity, consider the hygger 35W Aquarium Mini Heater. It has a slim profile and boasts a tiny size. The heater measures just 3.5 by 2 by 0.8 inches. As if that's not enough, this heater comes with suction cups. The 3 combine to make installing the hygger 35W Mini Betta Fish Heater a cakewalk.
You will have an easy time wedging the heater in a corner. Ideally, the compact design makes the heater suitable for small or partially filled tanks. Another feature we must mention is the bright and clear LCD display. The display shows real-time water temperature and effectively eliminates the guesswork.
Additionally, the LCD display shows the temperature both Fahrenheit and Celsius. The red indicator light shows that the heater is working. The light turns blue once the desired temperature is reached. The heater is suitable for 4 – 6 gallons.
10. hygger Explosion-Proof Carbon Mini Submersible Aquarium Heater
Buy now from Amazon
hygger Mini Submersible Aquarium Heater can be set between 68 deg F and 94 deg F. It is one of the heaters in the market that are very easy to use. It comes with an LED digital display and allows you to adjust the external temperature. If you press one time, you will add 1 degree. If you long press for 3 seconds, you will switch between Fahrenheit and Celsius.
The red light shows that the unit is heating while the blue light shows that it is constant. The hygger Aquarium Small Heater features nichrome alloy heating materials, which have higher thermal energy efficiency. It also features carbon material that effectively utilizes electrical energy and converts it into thermal energy.
The exterior of the heater is made of special nylon material, which is fire and explosion-proof. It is also anti-burn, and this should give you peace of mind knowing that no matter what happens, you will be safe.
Buying Guide for the Best Mini Aquarium Heater
The following factors are about how to choose a good aquarium small heater.
The Capacity of the Fish Tank Small aquarium heaters are definitely designed for small fish tanks. However, you may still want to be keen here because different mini aquarium heaters are designed to warm or heat up different sizes of tanks. For instance, most 50W heaters are suitable for 1 – 6 gal tanks, while most 100W is ideal for 6.5 – 13 gal tanks.
Extra Features
It is important to choose an aquarium heater with several extra features. This is because such a heater is very convenient to use. That being said, the heater you are set to buy should have an LCD display to provide you with real-time temperature and a thermostat to help protect it from burning and explosion.
Installation
Your aquarium heater should be able to work both in horizontal and vertical positions. Such a heater is very easy to set up. Moreover, the power cord of your heater should be of decent length to further make installation a breeze.
Conclusion
Small aquarium heaters are suitable for fish bowls as well as small freshwater and saltwater aquariums. If you are looking for one, check energy efficiency, size, extra features, construction, and ease of installation, among others. These factors are very crucial because they increase your chances of getting what is good for you and your fish.