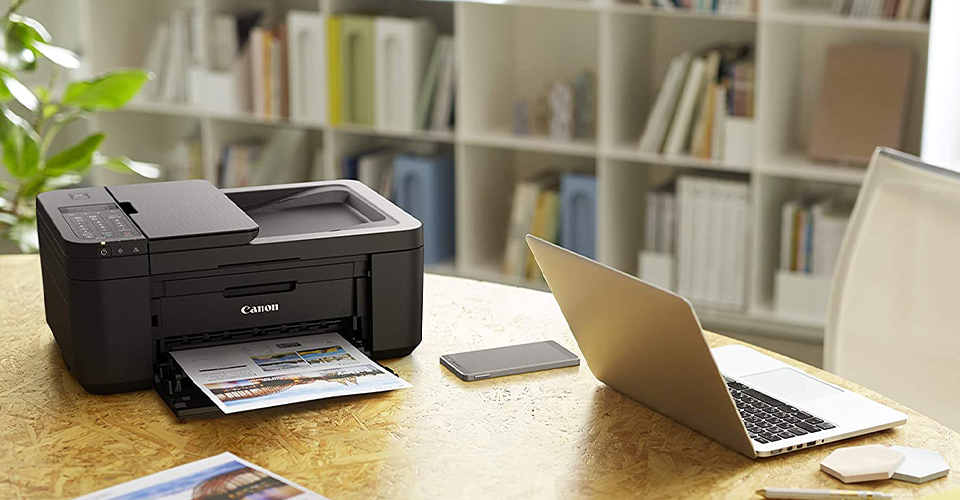 We all have a different thing that we look for when shopping for a printer, whether it is for use in the office or at home. But, one sure thing is that price always matters as we are always looking to get the best value for money.
And the best way to ensure that you get good value for cash is by buying a cheap printer that still offers good service and the same functionalities that you would get with the pricier models. The good news for the potential printer buyers is that there are almost countless cheap printer models out there.
Many top brands have a low price model that aims to cater to potential buyers shopping on a small budget. But whether you are shopping for an inexpensive model or not, you need to make sure that you choose one keenly. With our reviews of some of the best budget models below, you will have the perfect starting point for your hunt for a top-quality budget printer.
List of The Best Cheap Printer in 2021

#1. Canon Pixma MG3620 Inkjet Printer
The Canon Pixma MG3620 does not make the top of our list by chance as it is one of the most amazing printers you can get out there when on a small budget. One of the first things that make it fantastic is the fact that it will support mobile device printing, which means you can print easily from your tablet, smartphone and other android devices.
Since this printer uses a wireless setup, the initial set up will be relatively easy and should not take up a lot of your time. There are also powerful printing options, including AirPrint and Mopria. And this machine will allow for duplex printing to save paper. Also, it is a more compact and space-saving machine that will be perfect for those that do not have a lot of space to spare on their office desk.
Pros
Supports mobile device printing
Easy wireless setup
Multiple and powerful print options
More space-saving design
Allows for auto duplex printing
Stable WiFi connectivity
Cons
Makes some weird noises when printing
No display screen for the error messages
#2. Brother HL-L2350DW Monochrome Laser Printer
Brother is one of the most reputable printer manufacturers, and you can be confident they will always have something that will work well for you. If you are shopping on a budget, their more affordable Brother HL-L2350DW is a perfect pick. This machine helps save you money when printing because, besides the duplex printing capability, it also has a toner save mode.
With the manual feed slot, this machine will offer more printing flexibility as you can use different paper types and sizes. And with the capability to print up to 32 pages per minute, this is quite a fast machine. Many users will also love that it will allow for wireless printing via WiFi and the mobile app.
Pros
Fast duplex printing
250-sheet paper capacity
Manual feed slot for flexible printing
Up to 32 ppm print speed
Supports mobile and wireless printing
Toner saving modes saves you money
Cons
Deep sleep mode can be hard to turn off for first-time users
Not the best cartridge design
#3. Brother HL-L2300D Laser Printer
While the 27 pages per minute print speed you get with this machine might not be as high as our previous Brother printer model, it is still quite decent and should be good enough for most users. What's more, this printer also offers a convenient paper handling capacity with 250-sheet capacity and can handle different paper sizes for increased versatility.
There is also automatic dual-sided printing which, together with the toner save mode, will make this a more cost-effective printer. With the dual-sided printing, this printer will also use less paper when compared to other models. Overall the prints that you get will be sharp enough and with a high resolution. And this machine will also run smoothly with stable connections and no complications.
Pros
Decent printing speeds
Higher capacity paper tray
Auto dual sides printing
Prints sharp and high-resolution documents
Smooth running with no complications
Toner saver mode
#4. Epson EcoTank ET-2760 Printer
Besides being a more affordable printer, the Epson EcoTank ET-2760 is also build to be more cost-effective to operate. And to ensure this, it will use low-cost ink replacement so that you spend less on ink and it also has duplex printing which is always very effective at saving you the cost of paper.
When it comes to the actual printing, you will enjoy not only a stable wired connection but also reliable wireless connectivity that will ensure you can print from your smart devices easily. Furthermore, there is also an SD card slot for printing from your memory cards, and this machine will allow for convenient voice-activated printing. And with the easy-to-navigate screen, the operation will be a breeze.
Pros
Low-cost ink replacement bottles
Easy-to-navigate screen
Handy voice-activated printing
Memory card slot included
Automatic duplex printing
Easy wireless printing
Cons
Quite a loud machine
Hard to see the ink level
#5. HP OfficeJet Pro 9015 Printer
HP makes this all-in-one printer with a self-healing WiFi that will ensure you will always maintain a stable wireless connection as it will diagnose and reconnect your WiFi in case there is an issue. This printer is also build to deliver relatively higher capacity, and it has a 250-sheet tray that will minimize the frequency of refills. This printer also has customizable tasks that will make printing more straightforward for you, as you can pre-program it to accomplish specific tasks.
And because it has voice-activated printing, you can prompt it to print or scan a document without even touching it, which is super convenient. Your documents will also be safer with this printer as it has some advanced security features. Also, those that like printing from mobile devices like tablets and phones, the HP smart app will take care of this.
Pros
Stale self-healing WiFi
High capacity input tray
Customizable tasks
Voice-activated printing
Advanced security features
HP smart app allows for remote printing
Cons
Software needs some improvement
A little larger than expected
#6. Brother DCPL2550DW Laser Printer
The Brother DCPL2550DW is the perfect printer for you if you are looking for something that will give you a higher printing capacity. This printer prints more pages within a short time as it has a speed of 36 ppm, and it can also handle more sheets of paper as it has larger capacity input and output trays. Better yet, this printer has a 50-sheet automatic document feeder.
Printing flexibility is also assured when using this machine as it has a flexible manual feed slot that will allow you to use different paper types and sizes. Because this printer has wireless printing technology, you can also print fast and easily from your mobile devices. And with the Amazon dash replenishment service, you will never run out of ink.
Pros
High printing speeds and capacity
Works with Alexa voice control
Flexible manual feed slot
50-sheet auto document feeder
Wireless printing technology
Dash replenishment ready
Cons
Takes up more space
Does not have a fax function
#7. Canon PIXMA TR4520 Printer
It is hard to pinpoint that specific or one thing that makes the Canon PIXMA TR4520 a fantastic machine as it has a lot to offer. But, the Alexa voice control is perhaps one of the main things that will impress many users as it takes your printing a notch higher. However, this printer also offers wireless connectivity and works with the Canon Print app to allow for remote printing.
This printer will also not use up a lot of energy as it has an automatic power on/off function that ensures it will only run when you need to print, scan or copy. And with the built-in automatic document feeder, this machine will help speed up the job for you, while the dash replenishment service will ensure you never run out of ink.
Pros
Alexa voice control
Canon Print app for remote printing
Wireless connectivity
Auto on/off to save power
Built-in auto document feeder
Dash replenishment saves you ink
Cons
Hard to see the ink level
Scan quality needs improvement
#8. Canon MB2720 Office/Business Printer
If you want a multifunctional printer that will be very useful for you in the office, the Canon MB2720 is an unbeatable choice. Besides printing and copying, this all-in-one printer will be helpful for scanning and faxing. Also, the printer has a relatively higher capacity as its two paper trays can hold up to 500 sheets of paper to minimize refills.
With wireless connectivity and the Canon print app, wireless and remote printing will be quick and easy. But what many users will love about this printer over everything else is that it will deliver some incredibly sharp texts. Another impressive trait is that it will work with most operating systems.
Pros
Multifunctional printer
500-sheet capacity trays
Canon print app compatible
Laser-sharp texts
Works with most operating systems
Cons
Cartridge change can be hectic
Power-off setting can be confusing
#9. Canon TS8320 Color Printer
The large and highly intuitive touchscreen on the Canon TS8320 is one of the first elements that will impress many users as it makes using this printer a breeze. But, there is more to this budget printer than just a good screen as this machine also offers a more stable dual-band WiFi connection that will ensure wireless printing is simple for you.
There is an individual ink system on this machine that will ensure that you can easily replace the empty cartridge, which is even more cost-effective. And because it supports tablet and smartphone printing, this printer has an expandable output tray. This machine will accommodate different paper sizes, and it is dash replenishment enabled to reduce ink costs for you.
Pros
Large and intuitive touchscreen
Stable dual-band WiFi
Individual ink system
The auto expandable output tray
Dash replenishment saves ink cost
Accommodates different paper sizes
Cons
Setup is tedious
Ink is a little expensive
#10. Canon TS302 Printer
With the compact and portable size of the Canon TS302, you can easily carry and use it from anywhere, which makes it the perfect machine for printing photos from anywhere. What's more, this small printer also delivers some excellent quality photos as it prints in high resolution, which ensures it will capture all the details in the images.
This printer is AirPrint compatible, and this will allow you to print fast and easily from your smartphone or tablet. When it comes to operation, you can be sure that you will have an easy time as this machine will include some simple buttons for effortless use. But, it also works with Alexa for voice-activated printing.
Pros
Compact and more portable
Works with Alexa
AirPrint compatible
Simple button operation
Prints high-resolution photos
Cons
No display for commands and errors
Small paper capacity
Conclusion
A cheap printer does not have to be inferior quality or lacking in features, and our review above proves this as we showcase some fantastic models that still do not cost much. And now all you need to do is pick what works best for you or suits your office needs.
But, if you wish not to read all that, the Canon Pixma MG3620 Inkjet Printer is our best overall model, while the Canon TS302 Printer is what we recommend for anyone looking for something easy to carry around.