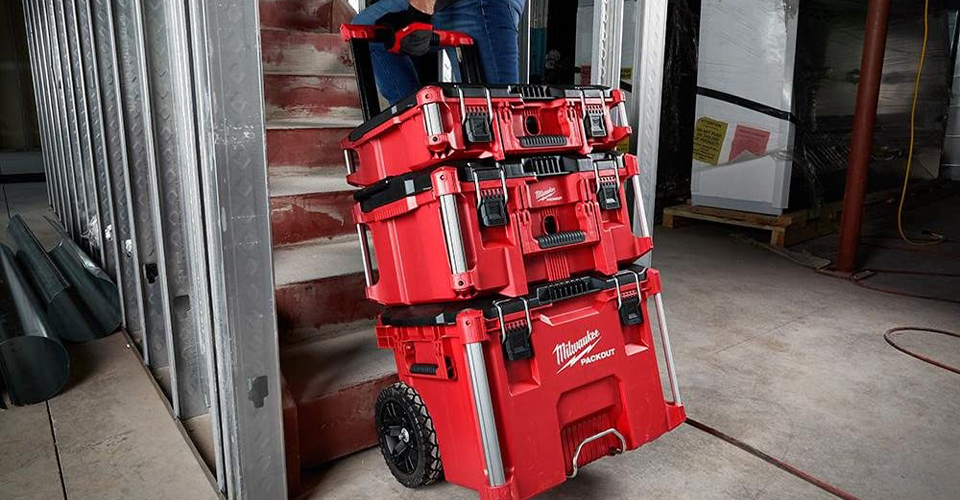 For most of us that often need to carry lots of tools to different work sites, a rolling toolbox is always a great buy as it makes them easy to pack and carry. With these boxes, moving heavy tools is easier because you do not have to lift anything, simply pulling the box allows the wheels to roll it around, which requires much less effort.
However, if you are going to get good service from a rolling toolbox, you need to choose one keenly, given the many options out there. Also, you need to make sure that whatever you buy gives you value for your money.
In this piece, we look at some well-built but cheap models that ensure you do not need to spend a lot of money to get something highly useful.
List of The Best Cheap Rolling Tool Box on Amazon.com

1. Stalwart 75-2250 Heavy Duty Rolling Toolbox
The rugged and durable construction is what makes the Stalwart 75-2250 our top overall product. This rolling toolbox is made from heavy-duty polypropylene and metal to ensure it is more rugged.
And it also rolls smoothly as it includes some nice 4.2-inch wheels made from fairly tough nylon material. When it comes to organizing your tool, there is plenty of space in the toolbox to ensure you have an easy time.
Also, it has multiple storage compartments for different things, including removable top storage. Other things like the attached cable hooks that make cord management easy and comfortable foldable handle make this an even better toolbox.
Pros
Rugged and durable construction
Two large nylon wheels
Plenty of storage space
Multiple compartments for easy organization
Comfortable foldable handle
Attached cable hook
Cons
Lids are not the best quality
Hinge seems to be a cheap plastic material
2. Milwaukee 48-22-8426 Packout
If you want a more heavy-duty toolbox that can withstand more abuse, the Milwaukee 48-22-8426 is an unbeatable choice. This toolbox has a solid and heavy-duty construction that includes an industrial-grade handle to make it easy to move around.
The all-terrain wheels help ensure mobility is smooth and easy as they roll well on any surface. What's more, the primary storage compartment offers a lot of space to ensure you can carry all your tools.
You should also not have any issues keeping the tools safe as there are some nice and secure latches. Better still, the case provides enough weather resistance and is backed by a lifetime warranty to give you some assurances it will last.
Pros
Solid and heavy-duty construction
Industrial-quality handle
Sturdy and smooth-rolling wheels
Large storage compartment
Nice locking latches
Backed by a lifetime warranty
Cons
No interior organization tray
3. Stalwart Stackable Toolbox Rolling
With Stalwart's stackable design of this tolling toolbox, you will get plenty of storage space and do it without having to use something that takes up a lot of room.
The toolbox is also designed to make tool-organization a breeze as it has multiple storage trays that accommodate different tools and accessories. Moving the toolbox around should not take a lot of effort with this box as it comes with some nice wheels that can move smoothly on almost any surface.
Overall, this is quite a rugged and durable toolbox that can take a lot of beating. And it also ensures you never have to deal with tangled cords as it has some nice cable hooks.
Pros
Stackable, space-saving design
Super comfortable handle
Smooth-rolling wheels
Easy tool organization
Rugged and durable design
Handy cable hooks
Cons
Axle is a little flimsy
Lid latches are wanting
4. Milwaukee 22-Inch Rolling Modular Tool Box
Milwaukee is famous for making some of the best quality tools, and so you can also be sure they will have the right storage solution for them. This toolbox is a perfect example of this, and it includes three big boxes that are stackable to make it easy to organize your stuff.
Also, each of the boxes includes partitions for even easier organization. Overall this box has a larger tool capacity. Besides being spacious, it can hold up to an impressive 250 pounds of weight.
Better still, this toolbox has a rugged construction to ensure long service life. And with the large, all-terrain wheels, the box is easy to move on most surfaces as it also has a long enough, non-slip handle.
Pros
Reinforced corner and locking points
Stackable to save space
Larger tool capacity
Rugged overall built
Large and all-terrain wheels
Comfortable and non-slip handle
Cons
Feels a little on the heavy side
Finish needs improvement
5. Tankstorm Heavy Duty Rolling Tool Box
With this heavy-duty toolbox by Tankstorm, you can be sure it will be many years before you need to buy another one. It is made from high-quality rolled steel materials and a blue powder coated finish to ensure that it is tough enough and more resistant to rust and corrosion.
And you can also lock the cabinet doors for maximum security. There is plenty of storage space on this box to ensure it can accommodate all your tools.
Also, it accommodates hooks to provide even more storage space and to hold tools when using them. Better still, there is also a nice shelf that can come in handy when working. With the nice 3-inch wheels, you can move it around with ease.
Pros
Lockable doors for extra security
High-quality rolled steel material
Plenty of storage space
Easy to move around
Accommodates tool hooks for extra storage space
Cons
Locking mechanism can be a little finicky
Seems to be a little short/low
6. Giantex Mini Tool Chest
For those looking for a mini toolbox that will still be very handy for carrying tools, this one by Giantex should be perfect. The small and compact design makes it easier to carry around, but it also comes with some nice wheels and a comfortable, non-slip handle that makes it even more effortless to move around.
Overall, this is a sturdy and durable tool chest that includes a superior powder coat finish that resists rust and a lovely color combination for more aesthetic appeal.
Some convenient hooks on the toolbox provide extra storage, easy-glide drawers for quick opening, and assembly is more straightforward.
Pros
More compact for maximum portability
Stable and flexible casters
Nice finish with a good color combination
Convenient hooks included
Easy-glide drawer
Simple and fast assembly
Cons
Latches are not well-positioned
Dents a little too easily
7. Mychanic 53072 Garage Rolling Toolbox
The multifunctional design is what makes the Mychanic 53072 such a fantastic product. Besides working as a nice toolbox, this product is also an ideal garage stool and can hold up to 500 pounds.
What's more, it does a good enough job for both functions as it a spacious and comfortable tool and provides quite a decent amount of space for your tools. Tool organization should be more effortless with this box as it includes some deep enough drawers that can hold a wide variety of tools and accessories.
Better yet, there is also a holster that you can use to keep your power tools. This toolbox has an adjustable height to accommodate different users and comes with oversized casters for easy mobility.
Pros
Multifunctional design
Holds up to 500 pounds
Height adjustable design
Nice power tool holster
Oversized casters
Deep enough drawer
8. Bory 485-B Multi-Function Rolling Toolbox
Despite being a more straightforward and more basic toolbox, the Bory 485-B is still a handy model that will give you excellent service. This multifunctional box can accommodate a wide variety of tools.
It will even include an adjustable divider to make it easy to arrange the interior to suit your specific tools and preferences. The overall build is also fantastic as this box includes a tough aluminum frame that also helps keep its weight down, ABS panels, and rivets for reinforcement.
Also, the handle uses a durable material and, besides being long enough, also has a comfortable, non-slip surface to make it even easier to use. You will never have any issue keeping the box open as it has some nice hinges for this, and you can lock it with either key or padlock for maximum security.
Pros
Lightweight and durable aluminum construction
Multifunctional and versatile design
Adjustable dividers
Solid and spacious handle
Key and padlock lockable
Convenient hinges keep it open
Cons
Dividers could be tighter
Misleading dimensions
9. TANKSTORM TZ37-BK Steel Rolling Tool Box
The inclusion of 7 drawers on this Tankstorm toolbox ensure that besides getting plenty of storage space, it will be easier for you to organize your tools and accessories. The drawers are quite spacious and include a smooth gliding rail that makes sure they come out and close quickly without having to out in a lot of force.
Durability is also guaranteed because the drawer has a high-quality construction that uses heavy-duty materials and a powder-coated finish that leaves a more pleasant look and prevents rusting.
There is also a secure locking mechanism for maximum security and smooth-rolling casters that will also swivel to make mobility more effortless.
Pros
Multiple drawers for easy organization
High-quality materials
Pleasant and rust-resistant finish
Secure locking mechanism
Smooth-rolling and swiveling casters
Drawers glide out easily
Cons
Not for very rough environments
Thinner gauge drawer material
10. TANKSTORM TZ35 Heavy Duty Cart
Like many other Tankstorm products, this toolbox works as well as it looks. The blue color draws most people's attention as it gives it a striking look, but this car is also available in red. Besides the appearance, the finish is also more resistant to rust, scratch, and chemicals as it has a powder coating.
Because the manufacturer uses high-quality rolled steel in its construction, you can be sure of long service life as this is one of the toughest toolbox materials. And with the sturdy casters that move smoothly and eve swivel, you can move the box around with ease.
Two of the four casters are lockable to keep the unit in place when working. And the drawers can also be locked to ensure maximum security for the contents.
Pros
Easy to organize with multiple drawers
High-quality rolled steel
Scratch and chemical-resistant finish
Easy to move around
Lockable drawers provide more security
Cons
A little low
No assembly directions
Conclusion
A rolling toolbox provides an easy way to organize your tools and makes them easy to carry around by rolling the box. And if you are on the market for one and do not want to spend a lot of cash, you only need to pick a suitable model from our list above.
Regardless of what you prefer, there is something for you on our review. But if you would rather skip directly to recommendations, the Stalwart 75-2250 Heavy Duty Rolling Toolbox is our best overall model, while the Milwaukee 48-22-8426 Packout is perfect for those looking for something heavy-duty.