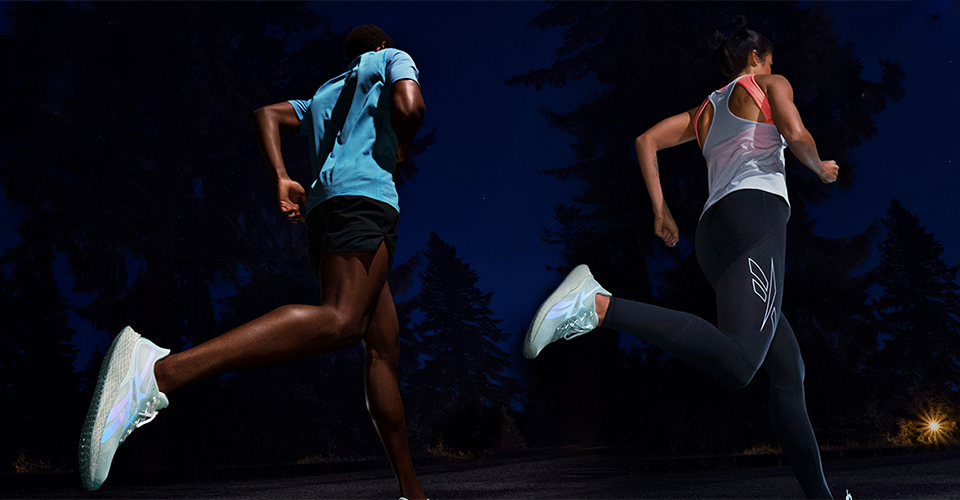 Sneakers are one of those shoe types that every man and woman needs to have in their closet as they come in handy for everything from workouts to job wear. While it is true you need to part with a decent amount of money to land a good pair of sneakers from one of those top sneaker brands, there are still some highly affordable ones that offer good service and are built to last.
These budget sneakers can still be stylish and highly durable if you choose well enough since almost every shoe manufacturer tries to make a shoe model for all market segments.
But, to help ensure you do not end up with something substandard as you shop for an inexpensive pair of sneakers, here we review a few top-quality ones to give you recommendations.
1. Skechers Men's Afterburn Lace-up Sneaker
Buy now from Amazon
Skechers is a brand you can always trust to have a pair of sneakers that will work for you no matter your budget. For this reason, their Afterburn Lace-up sneakers make the top of our list. These shoes are designed to offer a long service life with 100% leather material to ensure that they remain intact no matter how much you wear them.
Additionally, the shoes have a rubber sole that, besides being highly durable, also delivers excellent traction that will ensure you never slip regardless of the surface. These are super comfortable shoes with an adequately padded collar to support the ankles and a comfortable memory foam insole. Better yet, these shoes have a highly breathable mesh tongue and include some supportive overlays.
Pros
Durable 100% leather material
Sturdy rubber sole
Comfy memory foam insole
Padded collar
Highly breathable mesh tongue
More supportive overlays
Cons
Sole connection to the rest of the shoe needs improvement
2. New Balance FuelCore Nergize Sneaker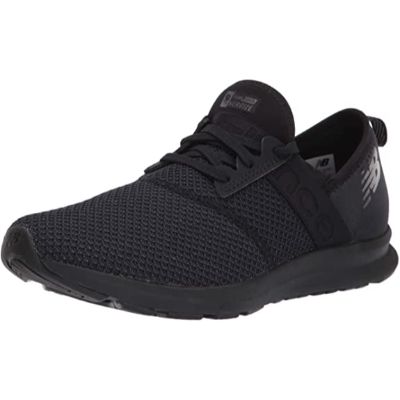 Buy now from Amazon
For women looking for a fantastic pair of sneakers that does not cost much, New Balance's FuelCore Nergize should be perfect. These New Balance training shoes come in a wide variety of colors to ensure every woman gets something that suits her tastes or style. What's more, these shoes have a highly durable construction that includes a rubber sole for long service life.
The upper section of the shoes combines synthetic and mesh materials to ensure the wearer gets a super lightweight feel for minimal leg fatigue no matter how long you wear them. There is also a comfortable midsole cushioning that provides adequate support for the feet, and these shoes also have a sleeker and more stylish design that makes them stand out.
Pros
Variety of color choices
Durable rubber sole
Comfortable midsole cushioning
Sleek and stylish design
Provides a more supportive fit
Super lightweight feel
Cons
Sides are not very firm
Little to no arch support
3. Skechers Go Walk Joy Shoe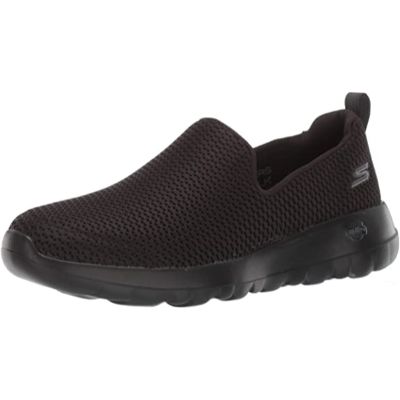 Buy now from Amazon
For ladies who regularly take walks and strolls, Skechers has the perfect shoe for you. What makes this pair very ideal for walking is that it is made from a lightweight textile material that does not add a lot of weight to the feet. Hence, you can walk for long distances with minimal foot fatigue with this pair. Additionally, the shoes have a sturdy synthetic sole that is also perfect for walking.
Other things that make these shoes fantastic include the highly responsive cushioning that keeps the interior nice and cozy. Also, a padded collar provides extra support for the feet and a high rebound insole that makes walks a little easier. The breathable mesh upper is also a great addition as it keeps the feet cool and dry.
Pros
Lightweight textile material
Sturdy synthetic sole
Highly responsive cushioning
Padded collar
High rebound insole
Breathable mesh uppers
Cons
A little too tight at the top
4. Nike Air Monarch Cross Trainer
Buy now from Amazon
Nike is another brand that never disappoints when it comes to sneakers, and these Air Monarch Cross trainers are enough proof of this. They are made from pure leather material, ensuring a long service life. Better still, the material has perforations designed to provide excellent airflow to keep the feet cool ad dry.
With these shoes, you also get a rubber sole designed to offer excellent traction to allow you to use the shoes in all terrains. Also, you can be sure the interior will be as cozy as possible for your feet since these shoes include a lightweight foam midsole. Better still, these sneakers have a highly stable design to ensure maximum support for your feet.
Pros
Rubber sole provides excellent grip
Durable leather material
Perforated upper for excellent airflow
Lightweight foam midsole
Highly stable design
Cons
Limited color choices
Not the most attractive finish
5. Adidas Grand Court Sneaker
Buy now from Amazon
If you are an active lady who loves running or playing different sports, these Adidas sneakers will be perfect for you. They are super comfortable to allow you to keep active for long periods and still look good enough to ensure they still complement your attire. For the material, Adidas uses PU-coated leather and synthetic for maximum durability while still keeping the weight down.
The manufacturer also does not disappoint as they use a highly durable material for the sole that also provides excellent grip on most surfaces. Additionally, the shoes have a wide boot opening up to 12 inches wide to ensure easy wear and removal. Better still, these sneakers include comfy but lightweight cushioning and come in a simple lace-up closure design.
Pros
Genuine rubber sole
Breathable but still durable material
Comfortable but lightweight cushioning
Larger boot opening for easy wear
Simple lace-up closure
Cons
6. Skechers Fit-Delson-Camden Sneaker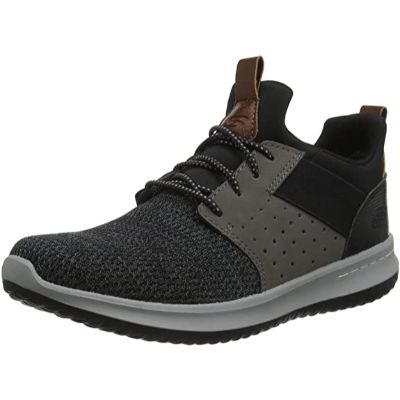 Buy now from Amazon
Sometimes a simple sneaker that fits perfectly like this classic one by Skechers is all you need. It is simple in both design and appearance, meaning it will work well for anyone since it suits any taste. The sneakers are also built to last with a combination of synthetic and textile material that also helps keep its weight down to minimize foot fatigue when wearing it for extended periods.
The interior includes an air-cooled memory foam that helps keep the feet well-cushioned as it has a molded dual lite base material that conforms perfectly to the foot. Also, it is gel-infused to provide a high rebound when walking, and the midsole has a moisture-wicking top layer to keep the feet dry. Since the shoes use a bungee cord for closure, they allow for easy adjustment and guarantee you always get a custom fit.
Pros
Bungee cord for a custom fit
Air-cooled for maximum comfort
Lightweight but durable material
Easily adjustable
Moisture-wicking insole
Cons
Stitching needs improvement
7. Reebok Princess Sneaker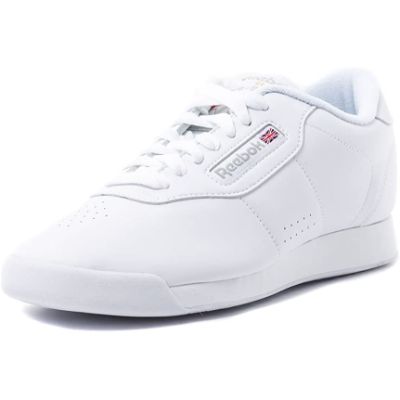 Buy now from Amazon
Reebok makes this sneaker to offer ladies everything they want in comfortable shoes. First, it has a lightweight and durable synthetic material designed to be more breathable than others, such as leather. Additionally, the sneakers have a rubber sole that guarantees excellent grip in different environments besides being durable.
The rubber sole works well for different work environments as it is more resistant to things like oil and grease. For ladies with problematic feet, these shoes are perfect since they provide efficient foot support thanks to the die-cut EVA midsole that also lasts a long time. Also, the interior has a moisture-absorbing lining that helps keep feet dry, and there is a nice foam-padded sock liner to keep the inside feeling even cozier.
Pros
Lightweight synthetic leather material
High-quality rubber sole
Highly efficient foot support
Moisture absorbing lining
Padded foam sock liner
Cons
8. Fila Disruptor II Sneaker
Buy now from Amazon
The chunky design of these shoes is highly fashionable, and they are the kind that every woman will want to step out wearing. Besides being attractive, these shoes are built to offer a long service life as they have a genuine leather upper material. The leather material is highly durable and breathable enough to ensure the feet are as comfortable as possible.
Additionally, ladies have more options for the colors as the manufacturer provides dozens of choices. The sole is made to last as it is a genuine rubber material that also guaranteed excellent grip. Better still, the tongue and collar are adequately padded for user comfort and are also breathable enough to keep the feet cool and dry, thanks to the perforated design.
Pros
Fashionable chunky design
Dozens of color options
Durable rubber sole
Adequately padded tongue and collar
Sturdy and breathable rubber upper
Cons
Sizes run small
There is a slight height issue
9. Adidas Men's Seeley Sneaker
Buy now from Amazon
The vintage Adidas look of these shoes with the distinctive 3-stripe design draws most people to these shoes. Besides the classic style, they also have a low-key design that makes them simple enough but still highly attractive for everyday wear. These shoes are made explicitly for skateboarding but can still serve any other purpose you want, such as walking shoes.
When it comes to the construction or overall build, they also do not disappoint. The sneakers have a well-built upper material designed to be highly resistant to abrasion to deliver a long service life. Additionally, the shoes have a textile lining on the inside that adds to the comfort and a rubber sole that is sturdy enough and will provide excellent traction.
Pros
Classic Adidas style
Sturdy rubber sole
Abrasion-resistant upper
Comfortable textile lining
Very ideal for skateboarding
Low-key design
Cons
A little squeaky when walking
10. Under Armour School Assert 8 Sneaker
Buy now from Amazon
With the lightweight and breathable mesh upper, this Under Armour shoe is the perfect choice for kids. Besides being super comfortable, it will be very effective at keeping their tiny feet dry even when they have to wear them for extended periods. Also, the shoes have a sturdy synthetic sole that offers adequate traction and is lightweight enough.
There is a soft EVA sock liner that provides comfortable step-in for the interior. Additionally, the EVA midsole is very useful as it allows for both adequate cushioning and super high rebound when walking or running to ensure excellent performance. One more thing that many potential buyers will love is that the shoes come in a wide variety of colors.
Pros
Lightweight and breathable material
Sturdy synthetic sole
Variety of color choices
Soft EVA sock liner
Well-cushioned interior
High rebound
Cons
Conclusion
With a good pair of sneakers, walking, running, or even just stepping out over the weekend in style is made much more manageable. Even as sneaker prices skyrocket, there are still many affordable models out there, and our list above showcases some of them.
Although what you choose from our review above will ultimately depend on your tastes, the Skechers Men's Afterburn Lace-up Sneaker is our overall recommendation for men. Simultaneously, the New Balance FuelCore Nergize Sneaker is perfect for ladies.