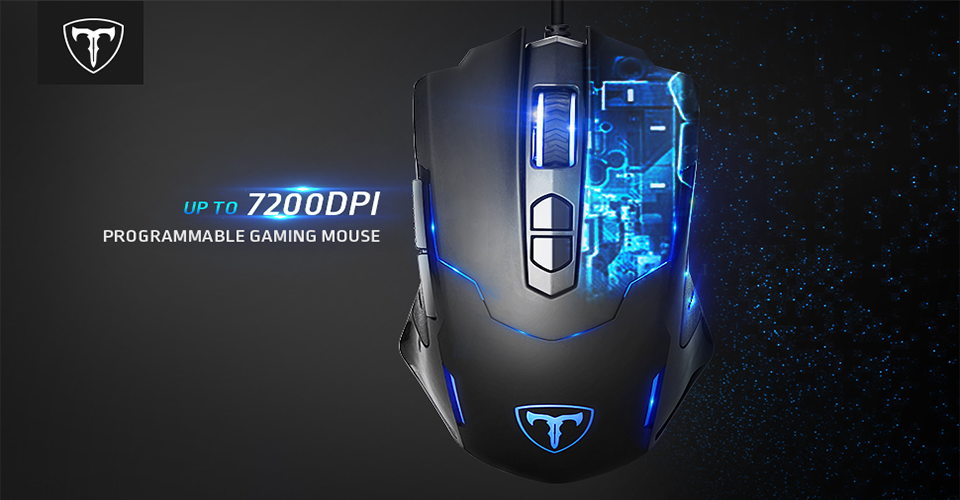 As a gamer, your gaming equipment is vital as it determines how fun and successful your gaming sessions will end up. One of those gaming accessories you can never compromise on is the gaming mouse, and this is more so for PC gamers since it is the tool you use to interact with the game.
While a good gaming mouse can sometimes attract a hefty price tag, the good news is that there are still many affordable ones. These inexpensive models still offer a good experience, but this is only true if you choose an excellent model and not one of those knockoffs that are only a waste of your hard-earned bucks.
Here we provide a list of the best gaming mouse out there you can get without having to spend a lot of cash.
1. Razer DeathAdder Essential Gaming Mouse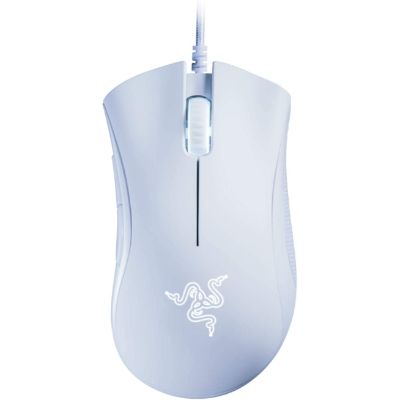 Buy now from Amazon
Everything about this gaming mouse is meant to ensure gamers have the best time regardless of the game they are playing. However, what puts it at the top of our list is the high-precision optical sensor (6,400 DPI). The sensor ensures you can make fast and precise mice swipe when gaming for the best reactions and responses as you play.
Some highly durable mechanical switches on this mouse can support up to an impressive 10 million clicks. What's more, the mouse includes five programmable buttons that will make gaming even easier for you as you will have all the commands you often use easily accessible. Additionally, the mouse offers a rubberized and ridged scroll wheel that ensures maximum accuracy and a sleek and more distinctive body for user comfort.
Pros
High precision optical sensor
Long-lasting mechanical switches
Programmable buttons
Rubberized and ridged scroll wheel
Sleek, distinct body
Cons
Can feel a little too small for some gamers
Overall finish and color is a little boring
2. Havit RGB Wired Gaming Mouse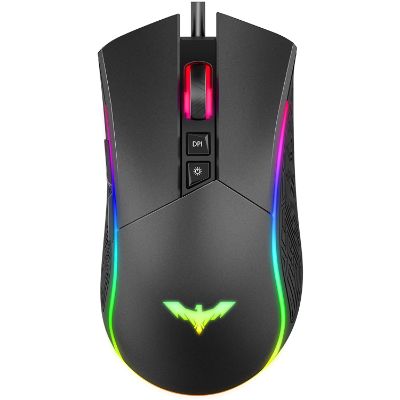 Buy now from Amazon
If you want to spend a few bucks but still get a top-notch mouse that will take your gaming a level higher, this one by Havut should be a perfect choice. Besides being affordable, it also offers an adjustable DPI with five levels ranging from 800 to 4,000 DPI, which allows you to match the DPI to the mouse's speed to suit different gaming situations.
The mouse surface is designed to be more ergonomic to ensure user comfort. This surface is skin-friendly to minimize user hand fatigue and also has a non-slip cut that can significantly reduce sweating as you game. Better still, with this mouse, you get 7 highly durable buttons that are tested to last at least 3 million clicks. Additionally, this mouse has broad operating system compatibility as it can work with all the common ones.
Pros
Adjustable multi-level DPI
Skin-friendly mouse surface
Wide operating system compatibility
Non-slip cut reduces sweating
Strong and durable buttons
Highly affordable
Cons
The base is too broad for some gamers' hand
3. PICTEK Wired Gaming Mouse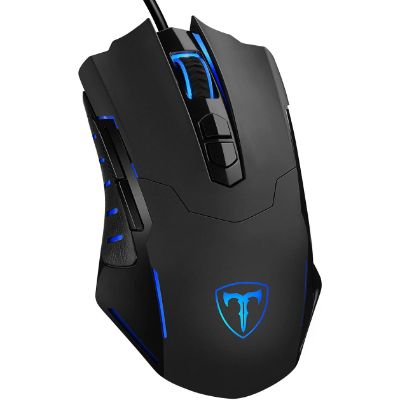 Buy now from Amazon
Customizing your mouse to suit the prevailing gaming conditions is guaranteed to be a breeze with this model as it allows you to customize the DPI by choosing from 5 different levels. Additionally, all the mouse buttons are programmable, meaning you can quickly assign them other functions to make gaming easier and more convenient.
The mouse has fantastic backlighting, which you can also be quickly adjusted by choosing from a wide variety of colors and light styles. Better still, there is a convenient switch on the mouse that makes it easy to switch the backlight on and off. This mouse can work for both Windows and Mac operating systems, and you can set it up quickly thanks to the plug-and-play design.
Pros
Multiple DPI levels
All buttons are programmable
Adjustable backlighting
Comfortable and ergonomic design
Wide OS compatibility
Convenient plug and play design
Cons
Instructions are not in English
4. Redragon M602 Gaming Mouse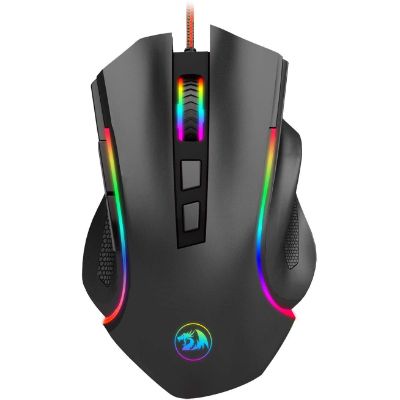 Buy now from Amazon
The backlighting colors on the Redragon M602 are one of its main highlights as they not only look fantastic but can also be adjusted to suit different gaming themes and preferences. This gaming mouse is also designed for gamer convenience, and simple game control as its 7 buttons are all programmable.
With the more ergonomic design of the mouse that includes a shape that fits most hands perfectly and tuned buttons to reduces hand fatigue, this is a super comfortable gaming tool. Tuning the mouse for better balance is also guaranteed to be easy, thanks to the built-in weights. What's more, the mouse provides precise sensors and can work with most operating systems.
Pros
Multiple backlighting modes
Programmable buttons
Comfortable and ergonomic design
Built-in in tuning for perfect balance
Wide operating system compatibility
Highly precise sensors
Cons
Color-changing backlit can be distracting
Overall construction does not feel very solid
5. Redragon M601 Gaming Mouse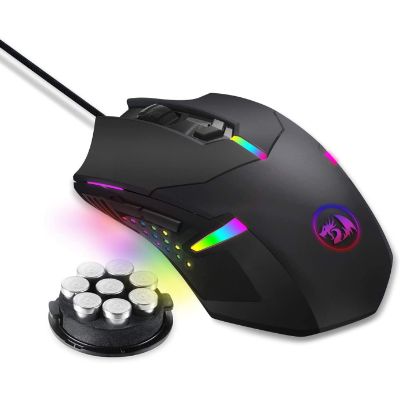 Buy now from Amazon
With the high precision sensor on the Redragon M601, you are guaranteed pinpoint accuracy when gaming with this mouse. Better still, besides having a high DPI level of up to 7,200, this mouse also allows you to adjust it as you can choose from 4 other levels to ensure you can always match the mouse performance to the prevailing gaming conditions.
There are 11 impressive lighting effects, meaning you can easily find something that matches your moods or the game you are playing. Additionally, the gaming muse includes 6 programmable buttons and 2 side ones to ensure you have maximum control over the game. Also, this is a more ergonomic and comfortable mouse that can work with any operating system.
Pros
High precision sensor
User-adjustable DPI
Multiple lighting effects
Programmable buttons
Ergonomic and comfortable design
Wide OS compatibility
Cons
Side buttons can sometimes be irritating
Scroll wheel seems to slip a lot
6. PICTEK Wired Gaming Mouse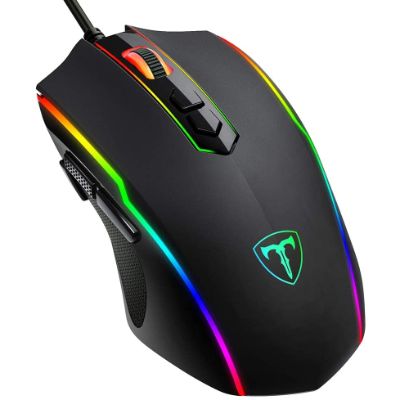 Buy now from Amazon
With a 4 polling rate and up to 7,200 DPI, this Pictek gaming mouse guarantees excellent gaming performance. Also, the DPI can be quickly adjusted to match the mouse's speed for different games. The polling rate is adjustable to ensure a smoother and high-speed movement. Additionally, this gaming mouse has 8 programmable buttons to ensure you can easily customize the controls to suit your specific needs.
For gamers that play for extended periods, this gaming mouse will be more appropriate as it comes in an ergonomic design and provides a super comfortable grip. Also, the rapid fire button comes in handy for games with intense battles. Better still, the software is easily programmable, and the mouse has adjustable backlighting.
Pros
8 programmable buttons
Ergonomic and comfortable grip
Rapid-fire button
Easily programmable software
Adjustable backlighting
Cons
7. VicTsing Silent Click Gaming Mouse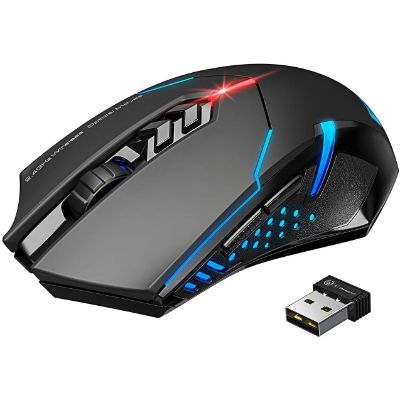 Buy now from Amazon
A noisy mouse can sometimes be annoying when concentrating on the game you are playing. Therefore, this model's unique silent click makes it a fantastic choice for most gamers. Also, it comes in a convenient wireless design that ensures you never have to deal with annoying wires or cables when gaming.
Despite this being a wireless model, you never have to worry about running out of battery no matter how much you play, as it has a highly energy-efficient design that conserves as much power as possible. You can use this mouse regardless of which operating system your computer runs on as it is designed to offer wider OS compatibility. One more thing gamers love is that the mouse has highly impressive backlighting.
Pros
Unique silent click
Convenient wireless design
Highly energy efficient
Wide compatibility
Adjustable DPI value
Impressive backlighting
Cons
Connection is not always very stable
8. Uhuru Wireless Gaming Mouse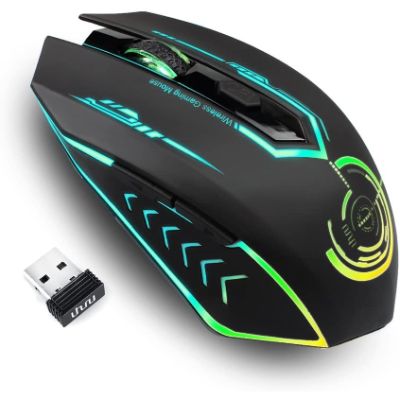 Buy now from Amazon
With a DPI level of up to 10,000, this Uhuru gaming mouse is the ultimate tool for every serious gamer. Additionally, the DPI can also be adjusted as you can choose from different levels to match the mouse speed when gaming. This gaming mouse also has a 7-color changing backlighting that allows you to get a more custom theme when gaming.
When it comes to the setup, the mouse gives you an easy time as it is a plug-and-play model that will not require any complicated driver setup. Additionally, the mouse offers up to 50-foot wireless control, and it includes six programmable buttons that you can assign different functions when playing. What's more, it has a more ergonomic design for comfortable and fatigue-free use.
Pros
Higher DPI level
Color changeable backlighting
Up to 50-foot wireless transmission
Plug and play design
Programmable mouse buttons
Ergonomic design for user comfort
Cons
No up and down button for the DPI button
Lights do not have an off switch
9. HyperX Pulsefire Core Gaming Mouse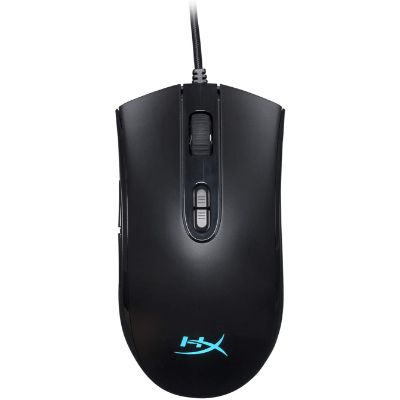 Buy now from Amazon
The more ergonomic design of this HyperX gaming mouse seems to impress most gamers. It ensures maximum comfort and minimizes fatigue even for gamers that prefer to play for extended periods. Since it has 6 programmable buttons, it also makes it easy to assign all the commands you use most to have an easy time when gaming.
Unlike many other models out there, this mouse can be further customized by the user since it uses a unique software that allows for several tweaks. There are also larger mouse skates on this one than what you get on many other budget ones, which means it glides more smoothly and is easier to control. You will also not need to buy a new one anytime soon as this one is rated to last at least 20 million clicks.
Pros
Ergonomically-designed for maximum comfort
Programmable buttons
Easy customization
Smooth and controlled gliding
Lasts up to 20 million clicks
Cons
10. HyperX Pulsefire HX-MC003B FPS Pro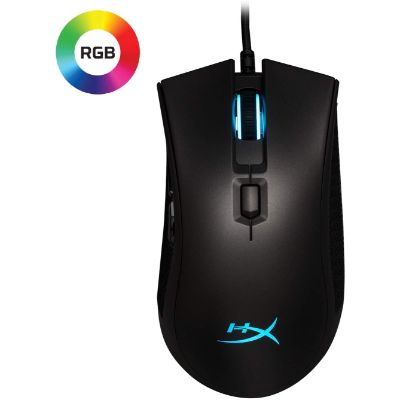 Buy now from Amazon
The 16,000 DPI you get from this gaming mouse is unbeatable for a budget model, and you would need to spend way much more money to get anything better. Another element making this a fantastic gaming mouse choice is that it has a more comfortable and ergonomic design that allows users to play for many hours with no hand fatigue.
Additionally, the gaming mouse includes some extra-large skates that ensure gamers get smooth and more controlled gliding. With the manufacture's unique software, customizing this mouse should be a breeze. Also, some onboard memory allows users to store the customizations. And there are also multiple customizable buttons for even further customization.
Pros
Super high DPI level
Comfortable and more ergonomic design
Multiple programmable buttons
Extra-large mouse skates
Simple customization
Onboard memory
Cons
Wheels can be a little squeaky
Conclusion
A good gaming mouse does not always have to be expensive as there are countless budget models out there like the 10 we list above. Each delivers exceptional gaming performance, and you only need to choose what you think works best for you.
That said, the Razer DeathAdder Essential Gaming Mouse takes our top overall spot. On the other hand, the Havit RGB Wired Gaming Mouse is ideal for gamers looking to spend as little cash as possible.