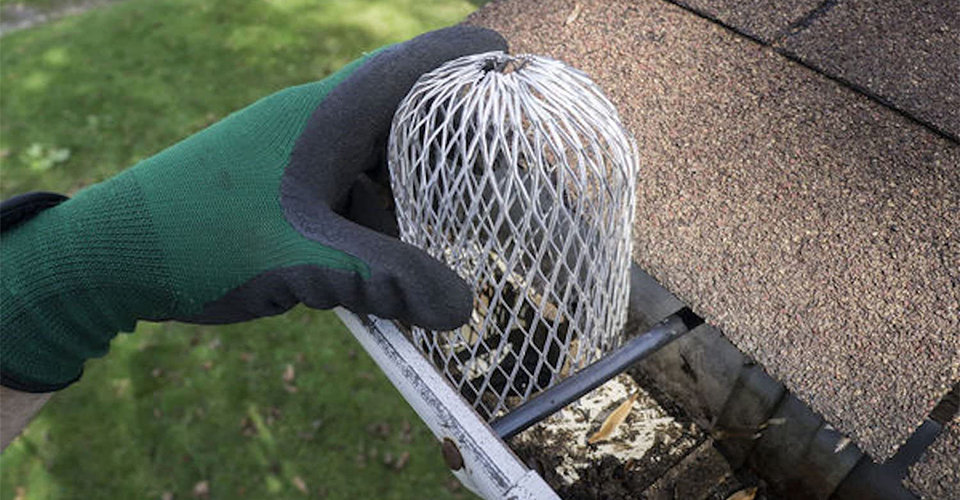 As much as we all hate doing it, cleaning gutters is an essential part of home maintenance that is hard to avoid. However, it is possible to ensure that there will be not much to do, and you can do it a little less often by using good gutter guards. Gutter guards are designed to cover up the gutters to keep debris and other things like insects, pests, and birds out of the gutters.
You will not need to spend a lot of money to land some good gutter guards as there are plenty of affordable models in the market. These cheap gutter guards come in different styles and are made from different materials to ensure there is something for everyone.
Most are also often straightforward to install, which makes them very ideal for DIY installation. Below is a compilation of 10 of these budget gutter guards to help give you some recommendations.
List of The Best Cheap Gutter Guards in 2021 on Amazon.com

1. Massca Store 3-Inch Expand Aluminum Filter Strainer Gutter Guard
The super-easy installation is perhaps what many users will love about this gutter guard, as it only takes a few seconds to get it in place. All you will need to do is push it in place, and for this, you will not need to use any tools.
And once installed, you can be sure of getting adequate protection from blockage caused by leaves and other debris. This gutter guard is also made to last a long time. The heavy-duty aluminum material will withstand harsh weather, and it is also completely waterproof.
Better yet, this sturdy material will ensure that the gutter will stay in place firmly. Besides being more affordable, this gutter guard will come in a 4-pack to ensure you get even better value for your money.
Pros
Easy installation in seconds
Very effective at preventing blockage
Heavy-duty construction
4-pack gives you even better value
Weather and waterproof
Stays firmly in place
Cons
Only protects the drain hole and not the entire gutter
Can be knocked off or blown away if not installed properly
2. Frost King VX620 Plastic Gutter Guard
One of the most significant advantages of plastic gutter guards like this is that it will never rust or corrode. Hence, you can be sure that it will protect your gutters for many years to come. What's more, the guard is relatively easy to unroll, which will make installation more effortless.
And you can easily and quickly customize it as the material is easy to cut with just a pair of scissors. This gutter guard is guaranteed to give you exceptional service by ensuring water flows through the gutters smoothly.
It does this by keeping leaves and other debris out of the gutters, and it also makes it harder for insects and other animals to get into the drain. And the roll will provide up to 20 feet of gutter guard to cover larger sections.
Pros
Does not rust or corrode
Easily unrolled for effortless installation
Can be cut and shaped easily with scissors
Guaranteed to last for years
Keeps leaves and debris out of gutters
Covers a long section
Cons
Edges seem to catch on everything
Can sag into gutter under heavy snow
3. Amerimax Home Products Gutter Guard
Whether you have an aluminum or steel K-style gutter, this guard will be ideal for you as it is designed to be widely compatible. What's more, it can work for 4, 5, or 6-inch gutter sizes.
Many buyers will also love that it takes little effort to install as you will only need to slide it into place, which takes only a few minutes and does not require any special tools.
Durability is also guaranteed with this gutter guard as it is made from powder-coated steel that will help ensure a long service life as it can withstand the elements for long. You can use these guards in any weather with no worries as they will handle heavy snow and rain well and can hold up to heat.
Pros
Wide gutter compatibility
Simple lock-in installation
Durable powder-coated steel construction
Mesh pattern keeps gutter flowing freely
Handles heavy snow and rain well
Holds up to the heat well
Cons
Holes are a little too large for use around maple trees
Does not hold very tightly
4. LeafTek Gutter Guard
With the LeafTek guard, you will not only get an effective solution for keeping dirt and debris out of your gutters but also a way to strengthen it to ensure it remains sturdy a longer time.
Better yet, the guard takes little time and effort to install, and you will hardly need any special tools as it will also come with self-tapping screws. Because this gutter guard will not install under the shingles, it does not void the roof warranty.
And besides being able to keep everything out, it will include a double box packaging that ensures it provides extra protection. One more thing users will love is that it is made from heavy-gauge aluminum that does not deteriorate or rust.
Pros
Helps strengthen the gutters
Super easy installation
Does not void roof warranty
Keeps everything out
Double box packaging provides extra protection
Material will not rust or deteriorate
Cons
Instructions are a little off
A little too wide for some gutters
5. Patio Eden Stainless Steel Gutter Guard
With the 100% stainless steel construction, this Patio Eden gutter guard is one of the most durable out there. This guard can withstand the weather all year round, and the material is very effective at keeping water out and ensuring you never have to worry about rust.
And when it comes to the installation, it will only take a few seconds to have it in place. For the pack of 6 guards, this product will offer you even better value for your money and also ensure you have enough of them for maximum gutter protection.
Also, the fit is perfect for most gutter sizes. And when it comes to the actual operation, they will help keep dirt and debris out to ensure your gutter never clog.
Pros
Sturdy stainless steel construction
Keeps dirt and debris out effectively
Installs in seconds with no tools required
Fits most gutters perfectly
Waterproof and rust-resistant
Cons
May require some cutting to fit
Hard to place in tight gutter overhangs
6. Amerimax Home Products Snap-in Filter Guard
The high-quality PVC construction makes this guard rigid and durable enough. While still not as durable as the steel ones, it still works well and is suitable for both aluminum and steel K-style gutters.
The guard uses a fine mesh design that will ensure it can catch the finest debris to help prevent your drain from clogging. Installation is relatively straightforward as you will only need to snap then guard in without using any special tools or accessories.
There are also lots of pieces in the carton as this is a 25-piece pack, which ensures that you will have enough to cover up to 75 square feet of gutter. For most homes, this coverage will be more than enough.
Pros
High-quality PVC construction
Helps catch fine debris
Easy snap-in installation
Lots of pieces in the carton
Covers a wide gutter area
Compatible with most K-style gutters
Cons
Reduces gutter rain collecting ability a little
Still not as durable as metal ones
7. Home Intuition Plastic Mesh Guards
Plastic guards are not as tough as the metal ones, but they come with their unique advantages. The key among these advantages is that they will be easier to cut to size with scissors, which makes it easy to customize the size to fit your gutters perfectly.
Also, the plastic material will not rust or corrode like metals guards. Besides the high-quality materials, these guards will offer the advantage of keeping your gutters clean for a long time.
They have perfect hole sizes that will not let in any debris that can clog your gutters. Better yet, this 6-inch wide mesh will be the ideal size for most gutters, which makes it more widely compatible.
Pros
Easy to cut to size
Plastic material does not rust
Keeps gutter clean for long
Wide enough for most gutters
Perfect hole size to trap all debris
Cons
Can still be damaged by animals
Grabs on gloves and clothes
8. Amerimax Home Products Hoover Dam Guard
If you are worried about debris always clogging your gutters, this Amerimax guard will be ideal for you. The guard has a unique design that will ensure it will handle even the heaviest debris.
It will also help keep everything from broadleaf to fine debris out to keep the gutters flowing smoothly. Another element that will ensure the water flows well in your gutters is the more innovative dam design.
What's more, this gutter guard is made from a highly durable steel material with a powder coating to ensure maximum service life. Its neutral color also blends in perfectly with most gutter colors, and installation should not take a lot of time or effort.
Pros
Handles the heaviest debris
Keeps out all broadleaf types
Innovative dam design
Durable and powder-coated steel construction
Neutral color blends in perfectly with gutters
Quick and easy installation
Cons
Does not come with screws
Seems to have issues fitting smaller gutters
9. Superior Gutter Guards Stainless-Steel Screen Gutter Cover
The highly durable stainless steel construction ensures that it will be many years before you have to replace this fantastic gutter guard. Besides being tough and durable, the guard will be a perfect fit for most traditional 5-inch gutters.
What's more, they are designed for DIY installation, and hence you can have them in place fast and without having to do much. With the fine mesh openings on these gutter guards, they will be very effective at trapping debris.
Better yet, they will come in a unique raised design that will help ensure water flows nicely through the gutters. One more thing that makes the guard unique is that it has been designed to withstand the harshest weather.
Pros
Durable stainless steel construction
Easy DIY installation
Fits traditional 5-inch gutters perfectly
Traps all debris
Raised design ensures good water flow
Withstands the harshest weather
Cons
Hard to cut when you need to resize
Provided screws are not the best quality
10. Gutter Guard Mesh Black Plastic Gutter Cover
With this black plastic gutter cover, you can be sure that you will have an easier time installing as there is nothing much to do besides securing it on your gutter. Better yet, it is easy to cut to your preferred size, and it will come with everything that you need to install it.
This heavy-duty plastic cover will not corrode or rust easily to ensure longer service life. By trapping all debris such as leaves and dirt, this cover will be very useful at preventing the clogging of the gutters. And because it will come as a relatively longer roll with up to 16 feet of product, this guard will cover relatively more space.
Pros
Quick and simple installation
Keeps birds and squirrels out
Prevents gutter clogging
Long roll will cover more area
Easy to cut when resizing
Does not rust or corrode
Cons
Seems to be more susceptible to strong wind
Feels a little flimsy
Conclusion
With the best gutter guards, you can be sure that your gutters will not clog easily and those pesky animals will also not ruin them. Finding the best covers when you do not have a lot of money to spend is a breeze as there is something that will work for everyone and any gutter type on our list.
That said, every model on our list does a fantastic job, but the Massca Store 3-Inch Expand Aluminum Filter Strainer Gutter Guard is our top recommendation as it offers superior quality and easy installation.
However, if you prefer a plastic gutter guard that you can easily cut to size to perfectly fit your gutters, the Frost King VX620 Plastic Gutter Guard is a perfect choice.